WHERE IS DREAMVILLE LOCATED?
Dreamville Fest is located at the historic Dorothea Dix Park. A luscious green, wooded, 308-acre site, nestled in the heart of Raleigh, North Carolina.
HOW DO I GET TO THE FESTIVAL?
We encourage all attendees to reduce our carbon footprint by riding our shuttles, walking, biking, catching the train to Raleigh or by carpooling to the fest! You have a wide range of travel options available to you below!
[Click or tap map to open high resolution version in a new browser window. On your phone, you can pinch and zoom to expand details]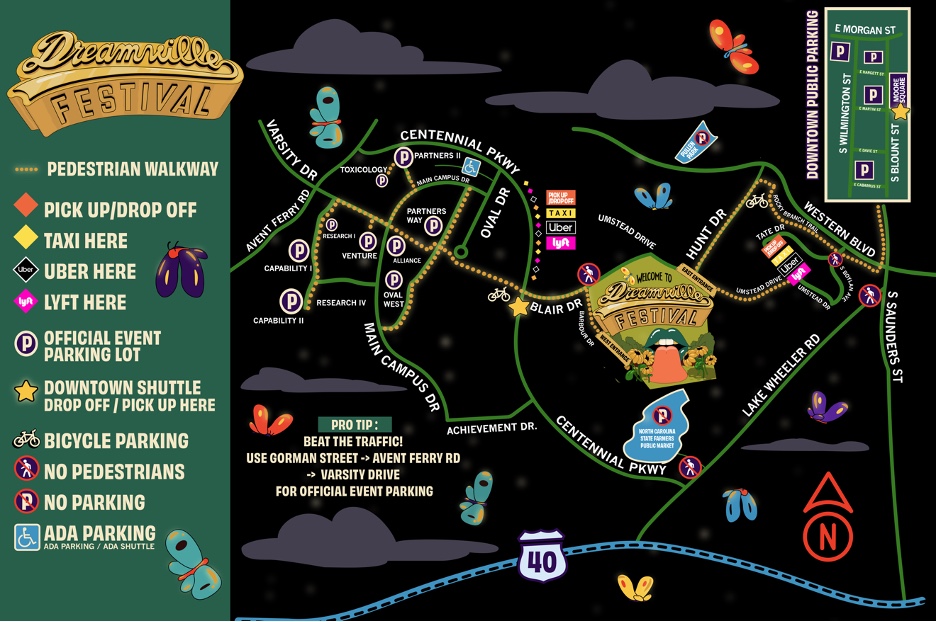 1. OFFICIAL EVENT PARKING AT NC STATE
Dreamville OFFICIAL EVENT PARKING will be available for purchase at NC STATE UNIVERSITY'S CENTENNIAL CAMPUS, right across the street from Dorothea Dix Park.
These parking spaces will be limited and will fill up quick -- FIRST COME, FIRST SERVE!
PLEASE NOTE: Overnight parking is not permitted. All Parking passes are for daily entry into the Parking decks and lots only. Vehicles left overnight in these Parking decks and lots will be towed at the owner's expense. Please plan accordingly.

2. RIDE THE OFFICIAL DOWNTOWN SHUTTLE
Whether you're booking a hotel room in Downtown Raleigh for the weekend or just planning to take advantage of the cheap parking in one of the Downtown Parking decks, the OFFICIAL DOWNTOWN SHUTTLE is 110% the best move for you to get back and forth from the festival.
The OFFICIAL DOWNTOWN SHUTTLE will be picking up from MOORE SQUARE in the heart of Downtown, AND will drop you off RIGHT next to the West Entrance into Dreamville Fest (closer than walking from OFFICIAL PARKING AT NC STATE).
Your DOWNTOWN SHUTTLE pass is good for the entire weekend and covers you for trips to/from the Fest each day (you only need to purchase one pass!)
The DOWNTOWN SHUTTLES will run non-stop continuous service from 10:00am (2 hours before gates officially open each day) until 1:00am (2+ hours after the end of the Festival each night).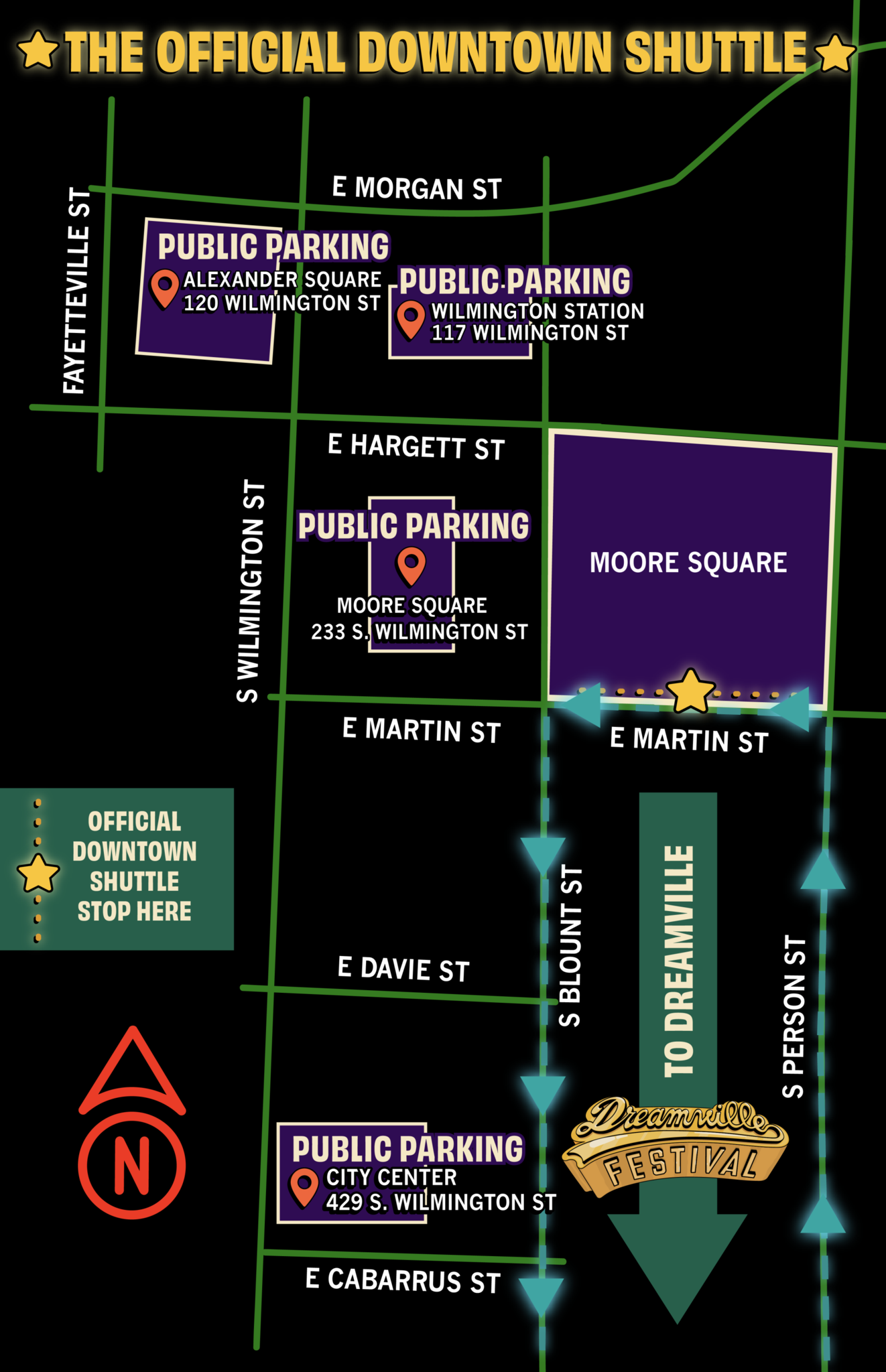 3. TAKE AN UBER OR LYFT
Get dropped off at designated drop off / pick up zones, located on either side of Dorothea Dix Park, within very short walking distance of the Dreamville venue entrances! You'll be able to get picked up from the same locations after the event.
4. GET DROPPED OFF BY FAMILY / FRIENDS / TAXI
Whether it's a taxi, your friends, roommates or parents dropping you off - we've got you covered!
Get dropped off at designated drop off / pick up zones, located on either side of Dorothea Dix Park, within a very short walking distance of the Dreamville venue entrances! You'll be able to get picked up from the same locations after the event.
5. BICYCLE, E-SCOOTER or WALK
Take a stroll in the park! Dorothea Dix Park is gorgeous this time of year!
Enjoy the views + save the environment… but please do so safely! PLEASE stick to designated sidewalks, footpaths, and crosswalks at all times!
Whether you're coming from NC STATE or DOWNTOWN, you can ride your bike to Dorothea Dix Park, however you'll need to disembark from your bike and lock it up at one of the Bike Parking areas on the outskirts of Dorothea Dix Park, and walk to the Festival Entrances.
There are two designated locations for bike parking:
On the corner of Centennial Pkwy and Blair Dr.
On the corner of Western Blvd and Hunt Dr.
Electric Scooter operators LIME and SPIN will both have e-scooters available in the greater Raleigh area, during Dreamville Fest weekend.
Please refer to the City of Raleigh website for more information on e-Scooters, including hours of operation (6:00am to 11:00pm only, seven days a week) and important safety information to ensure you get where you're going SAFELY.
6. TAKE PUBLIC TRANSIT
For more GoRaleigh information on fares and schedule CLICK HERE.
7. TAKE THE TRAIN
Raleigh Union Station is only two miles from Dorothea Dix Park (where Dreamville Fest is being held). Downtown hotels are also just blocks away!
For schedules and more information visit ncbytrain.org or call 1-800-BY-TRAIN.
Dreamville Festival Attendees Can Save 25% off Tickets for NC By Train
USE DISCOUNT CODE V681 FOR 25% off!
Here are the terms and conditions:
Valid for travel to/from RGH (Raleigh, NC) and CYN (Cary, NC) to attend the Festival.
Valid on the Carolinian and Piedmont trains only.
Valid for 25% discount off the regular (full) adult fare.
Valid for Sale:
Valid for Travel:
Blackout Dates:
Valid for coach seating only.
Not combinable with any other discount offer.
Seating is limited & may not be available on all trains at all times.
Fares are subject to availability.
Subject to any restrictions, blackouts, and refund rules that apply to the type of fare purchased.
Routes and schedules are subject to change without notice.
Once travel has begun, no changes to the itinerary are permitted.
Cancellation fees may apply.
AMTRAK, Carolinian, and Piedmont are registered service marks of the National Railroad Passenger Corporation.
Daily train service is available from New York, New Jersey and Washington, D.C., plus seven additional stops between Charlotte and Raleigh.
| | | | |
| --- | --- | --- | --- |
| Charlotte, N.C. | Durham, N.C. | Petersburg, Va. | Baltimore, Md. |
| Kannapolis, N.C. | Cary, N.C. | Richmond, Va. | Wilmington, Del. |
| Salisbury, N.C. | Raleigh, N.C. | Fredericksburg, Va. | Philadelphia, Pa. |
| High Point, N.C. | Selma, N.C. | Quantico, Va. | Trenton, N.J. |
| Greensboro, N.C. | Wilson, N.C. | Alexandria, Va. | Newark, N.J. |
| Burlington, N.C. | Rocky Mount, N.C. | Washington, D.C. | New York, N.Y. |